About PCB Assembly China
A PCB is considered as the brain of electronics as it plays one of the most significant roles in function execution of electronic products. PCB assembly in China has become a widespread phenomenon, and there are strong reasons why more companies and individuals are going for this option. This article will compare PCB assembly in other countries and PCB assembly in China so that you can make the right choice of where to get yours.
What is PCB Assembly?
Before the assembly of components, a circuit board is referred to as a Printed Circuit Board (PCB). A combination of different automatic and manual PCB assembly tools are utilized in a process called soldering, where the actual assembly takes place. After the soldering of the components is complete, the board is called the Printed Circuit Board Assembly (PCBA), Printed Circuit Assembly (PCA) or only PCB Assembly.
Please note that the PCB manufacturing process differs from the assembly process. The processes involved in manufacturing, including design and creating of prototypes, will be discussed later on in this article.
Before a PCB can be used in any electronic gadget or equipment, the passive and active electronic components must be soldered onto the board. This assembly will depend wholly on the desired function of the circuit board, the type of PCB, and the type of electronic components in play. Other different consumables and electronic parts are also important requirements for PCB assembly:
• Basic electronic components
•  Printed Circuit Board (PCB)
•  Soldering flux
•  Soldering materials (solder bar, solder wire, solder balls, solder paste, solder preforms in accordance with the soldering to be performed)
•  Soldering equipment (soldering station, SMT equipment, wave soldering machine, testing equipment, inspection equipment)
PCB Assembly China vs. PCB Assembly in Other Countries
Why You Should Be Focusing On China
PCB's are essential in today's modern world. Technology is continuously improving, and so is the need for state-of-the-art gadgets and electronics to power these advancements, in which PCB's play a critical role. The manufacture and assembly of PCB's are as crucial as the design process as very careful contemplations must be considered.
China is a leading force in the global PCB manufacturing and assembly market. While the strength of other markets like the United States has been on a steady decline through the years, it has been a very different story for China.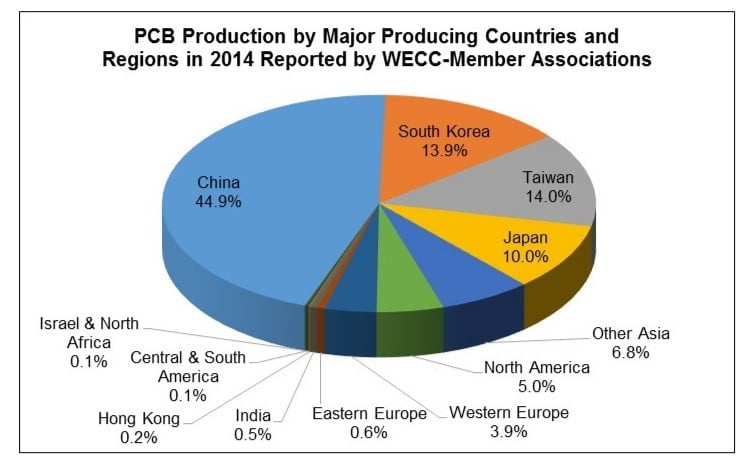 Let's have a look at some statistical facts that strongly indicate PCB assembly China trumps other PCB assembly and should be a strong consideration for all serious electronics manufacturers looking for efficiency and effectiveness.
•  The United States PCB industry generates about $4 billion each year in revenue and has registered a -2.7% yearly decline since 2013. Less than 500 companies are active, and manufacturers employ about 21,000 people. On the other hand, China's PCB industry has a revenue of about $95 billion and has recorded a growth of 8.4% since 2013. There are about 2,500 companies active, creating nearly 700,000 jobs.
•  The manufacture of Flexible Printed Circuit Boards in China contributes about $7.5 billion to the global PCB revenue.
•  For the first time ever, in the year 2016, operating revenues in China topped $60 billion for the PCB industry.
•  Of the top 5 biggest countries in regulation of the PCB industry, China comes at number one, controlling 43% of the PCB industry. Next to China is South Korea, Hong Kong, Japan, and North America, which control 16%, 14%, 11%, and 5% respectively.
•  According to trend analysis, the global industry of PCBs will be boosted by orders from China because China alone contributed 7% to the growth of the market.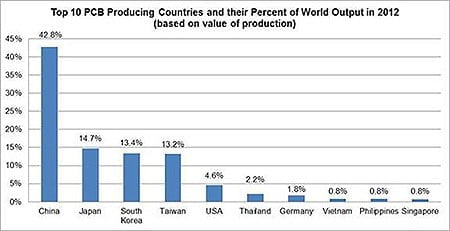 Advantages Of PCB Assembly In China
PCB assembly China has many benefits when compared to other alternatives, and we would like to discuss just a few of them here.
•  Seasoned professional touch: there is plenty of information online and tons of videos that any individual can utilize to embark on do-it-yourself projects for PCB manufacturing projects. However, most of these will not result in professionally finished work and are simply hobby projects. In many cases, it is always best to leave the skilled labor to professionals, and this is very true in the manufacture and assembly of PCB's. Excellent PCB manufacture and assembly companies like Moko Technology have the full set up laced with error spotting abilities and expert testing of your final PCB. This way you have confidence and can concentrate on creating your final product.
•  Hub of technology production: there are many good PCB companies around the world, but China is already known as the location for the significant production of technology. This is probably due to a combination of low labor costs, competent technicians to oversee the process and an advanced system of toxic waste disposal.
•  Small-sized, multifunctional PCB's: PCB assembly China boards are small in size and only getting smaller by the day. They are also used in a plethora of applications, turning laptops and smartphones into more powerful machines with higher features. These small PCB's are playing an essential role in constructing more advanced and outstanding devices.
What You Should Know About China PCB Service
Due to continual advancements in modern technology, the size of circuit boards keep shrinking with time, but the smaller sizes don't hinder circuit boards from being extremely reliable and vastly multifunctional. Dues to this fact, PCB assembly covers a wide range of elements that indirectly or directly controls the smooth running of PCB boards.
China remains a leading giant in electronics manufacturing worldwide and no doubt because of its sturdy political environment, plenteous natural and human resources, favorable national policies and constantly rising international influence. We seek to educate global customers on the special characteristics that strong PCB China assembly companies have to offer the market.
•  Main Components For PCB Assembly: PCB's might be small, but there are many details to them, especially with the increasing complexities being introduced as technology evolves. When you engage a professional PCB assembly China company like Moko Technology, these are the common leading components of PCB assembly in China:
 ♦ Design: a PCB design file containing an idea with details of fundamental parameters.
♦ Prototyping: a direct way to test is the idea in the design stage is feasible and becomes a key reference during mass production.
♦ Fabrication: laying a foundation for electronic connection by setting up the core parts of the PCB.
♦ Assembly: sourcing and implementation of components.
♦ Rework and repair: a small section for thorough checks.
♦ Sourcing: connecting manufacturers with customers for parts like copper foil and covering substrate.
•  Regular Procedure To Get PCB Assembly From China: engaging the services of Chinese PCB companies like Moko Technology involves certain basic procedures. PCB assembly in China comes with many advantages but still complies with approved trade policies around the globe. The following steps will set you on a clear path to acquiring PCB assembly from China:
♦ Create PCB design from your idea: create a rational PCB design file upon which your dreams will take wings.
♦ Choose a trusted assembly company in China: you can utilize the tips provided below in selecting the perfect PCB company.
♦ Make a prototype order: after sorting the idea and getting the right company, you get the ball rolling at this stage.
♦ Validate the standards and performance of your prototype: inspect, correct, and smooth the prototype.
♦ Make a mass order: once you get an error-free pass, go ahead and place mass order.
♦ Modify the design to fit your mass order: make modifications on the prototype to fit your mass order where necessary.
♦ To confirm the final design so production can start: mass order production commences upon confirmation.
♦ Wait for your order to be delivered and use them on your electronics: pay for the order, choose a delivery method, and wait for fulfillment.
Tips to Select a PCB Assembly Manufacturer in China
You must always consider top quality when producing electronic equipment. Although many people assume this must mean very high prices, PCB assembly China companies like Moko Technology can reduce your PCB assembly costs through comprehensive solutions particularly modified to satisfy your needs. Highly efficient manufacturers provide cost-saving solutions to encourage a long term relationship.
How then can you identify highly efficient, high-quality PCB assembly companies like ours? Check out the following tips for some pointers:
•  Full vertical integration: low-quality companies will most likely outsource some parts of fabrication like lamination, gluing, and drilling, whereas proper companies have the tools and capacity to complete every step within their facility. Moko Technology handles all parts of PCB layout, manufacturing, component procurement, programming, testing, and final assembly for you in-house.
•  Optimized component costs: small companies have a hard time getting good prices or special treatment from manufacturers while a large partner can promise optimized component costs. Moko Technology sources PCB and components at a very competitive price.
•  Suitable test capabilities: make sure to select a company that is well fitted for circuit testing so that all issues can be ironed out before the final product is shipped to you. Moko Technology handles everything from PCB layout, manufacturing, component procurement, programming, testing, and final assembly.
•  Proper MRP or ERP systems: an effective material control system should be in place to track and integrate the movement of all materials to guarantee standard control and traceability. Moko Technology utilizes an ERP Systematic order process that enables order tracking showing product cycle time and allows you to check production status through the entire order.
•  Excellent communication: ensure that the process of PCB designing, fabrication, and assembly are happening in sync and everyone involved in your project is on the same page through proper communication. At Moko Technology, we let you focus on your end goal by providing a team of 70 engineers to support your entire process while we worry about every part of the process. We always remain in sync with you and with our team to deliver only the best
Moko Technology Limited is an experienced PCB manufacturing and assembly company with nearly 13 years of experience in the game. Since its inception in 2006, the company has grown to a staff strength of over 250 employees, 70 of which are dedicated, R&D engineers. This is one of the best choices for your PCB assembly China needs for several reasons:
•  Full-service PCB fabrication and assembly: since our establishment, we have grown to become one of China's leading suppliers to worldwide engineers, experts, and manufactures. We are capable of providing a full range of services from PCB layout to manufacturing, component procurement, programming, testing, and final assembly. We source all PCB, components, and handle PCBA assembly train at a competitive price.
•  Guaranteed in-house quality reviews: all our processes and quality of all PCB's are verified. Our engineering team is always available to support you through design, layout, hardware engineering, software, and firmware development and personalization. We do this to ensure that your unique needs are met and inherent flaws are eliminated.
•  Certified standard quality: with something as critical to the composition of your electrical products as PCC's, you cannot afford to skimp on quality. When you choose Moko Technology, you are choosing an industry giant with nearly two decades of delivering high-quality PCB services to the global market. We take care of every phase of production to ensure top quality reaches you. Because we adhere to the strictest standards of PCB manufacture and assembly, we have remained the top pick of several customers.
•  Higher efficiency, time-saving: from fabrication to component procurement and assembly, we handle full PCB assembly China services, so you don't need to worry about dealing with different suppliers across staggered timelines. As a premier turn-key PCB company, we are a fully responsive company with adequate tracking facilities for increased efficiency.
•  Outstanding customer service: we want to serve you better, so we have continually improved our processes and communication over the years.
According to industry data, China is steadily growing as the main hub for delivering PCB solutions. More turn-key companies are available at competitive prices, delivery quality resources to global partners.
Wherever you are in the world, whatever your technological problems, no matter your logistical needs, you can have an excellent PCB manufacture and assembly company in China that delivers excellent services and solutions to your doorstep.
Our expertise, experience, and resources at Moko Technology make us a leading choice to move your PCB venture forward. Our excellent relationship with the value chain, comprehensive PCB portfolio, high-quality assurance, top-notch production and assembly techniques, world-class engineers, and much more are all at your disposal to help with your organizational challenge.